Sections in this article
Managing Your Preferences
Newsletter Descriptions
Email Notifications
Not receiving your newsletters?
Hold Requests
Newsletter Links Are Not Working
Managing Your Preferences
It's easy to change your email and newsletter preferences! Select Your Account > Email Preferences, found at the top right of the page, on the navigation bar.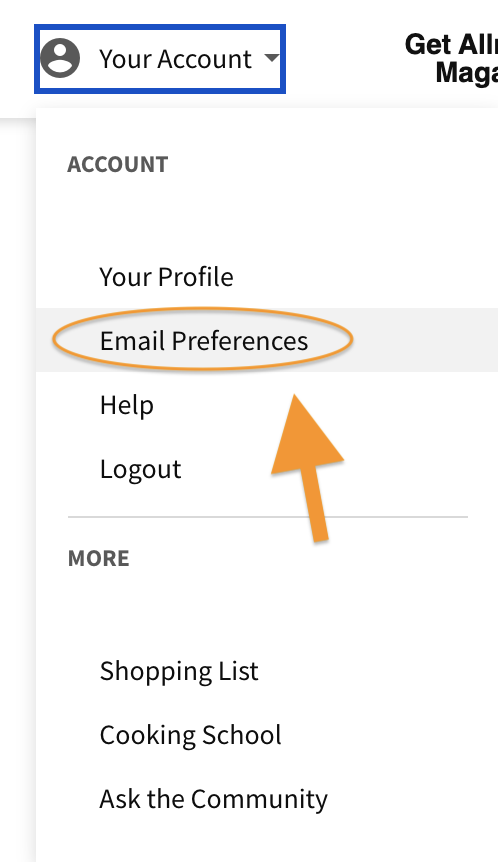 Alternatively, visit Email Preferences to manage newsletter subscriptions for Allrecipes and all other Meredith titles.
You're able to subscribe to or unsubscribe from our newsletters through either method. Please note, any changes made to your email and newsletter preferences can take up to 7 to 10 days before taking effect–you may continue to receive our newsletters during this period.
Newsletter Descriptions
Have the latest recipes, meal ideas, and cooking tips from Allrecipes delivered right to your inbox. Our newsletters inspire, educate, or simply give you great ideas for tonight's dinner or a week's worth of meals. The following are the current titles we offer and a description of what you can expect in your inbox each week:
| | |
| --- | --- |
| Daily Dish | Daily dinner inspiration |
| EasyHealthy | Meals to fit your healthy lifestyle sent once a week |
| The Food Feed | A roundup of trending and seasonal recipe ideas from our 9 food sites sent a few times per week |
| Hot Dish | Trending and new recipe inspiration sent a few times per week |
| Sweet Spot | Delicious desserts delivered to your inbox once a week |
| The Scoop | Monthly holiday and seasonal recipe inspiration |
| What's Cooking | Receive tips and tricks for better cooking twice a week |

If you would like to modify your newsletter subscriptions, please Contact Us and include the titles of the newsletters you wish to receive or unsubscribe from.
Please note, newsletters cannot currently be customized by special diets at this time. We recommend customizing your Taste preferences to receive home feed recommendations based on your diet and interests.
Email Notifications
| | |
| --- | --- |
| Newest Recipes | Receive an email when new recipes are published on the site. |
| New Photo | Be notified when a new photo is posted to your recipe. |
| New Review | For when a new review and rating is posted to your recipe. |
| My Published Recipe | Be notified when your recipe is published on Allrecipes. Congrats! |
| New Follower | Receive a notification email when you gain a new follower. |
| Favorites & Follows | For activity related to my favorites and those you follow. |
| Membership | Membership updates and information. |
Not receiving our newsletters?
Add email@allrecipes.com to your email address book to ensure delivery into your inbox. Please note, this email is not a monitored inbox. If you would like assistance with your account, please Contact Us.
Spam
Your email provider may be sorting our newsletters into your spam folder. Please carefully review the contents of your spam folder and add email@allrecipes.com to your contacts if you locate any of our emails and newsletters there.
Blocked or Held Status
If you have stopped receiving your newsletter subscriptions, it may be due to a spam report. This can happen when a user mistakenly reports us as spam, or if there have been delivery problems that have resulted in too many bounced (returned) emails. Please refer to your email provider for help.

Please note, we are currently experiencing regional delivery issues to our Canadian members at this time.
Hold Requests
Allrecipes does not offer the ability to temporarily suspend newsletter subscriptions. You may want to unsubscribe so you do not receive newsletters while you are away, and when you return, contact us to continue receiving your favorite newsletters!
Newsletter Links Are Not Working
The most common reason why links in newsletters do not work is that your email program does not support active links. If this is the case, copy and paste the recipe address into your web browser's address bar or contact your email provider for additional troubleshooting help.